Pour Proudly
FEATURED ProDUCTS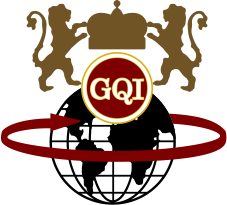 "Global Quality Imports: Delivering Excellence for Over 35 Years"
Visit Us
1230 Kress Street
Houston, TX, 77020
Global Quality Imports is proud to offer premium products from around the world. We carry hundreds of global brands, but below is a small selection of our featured brands: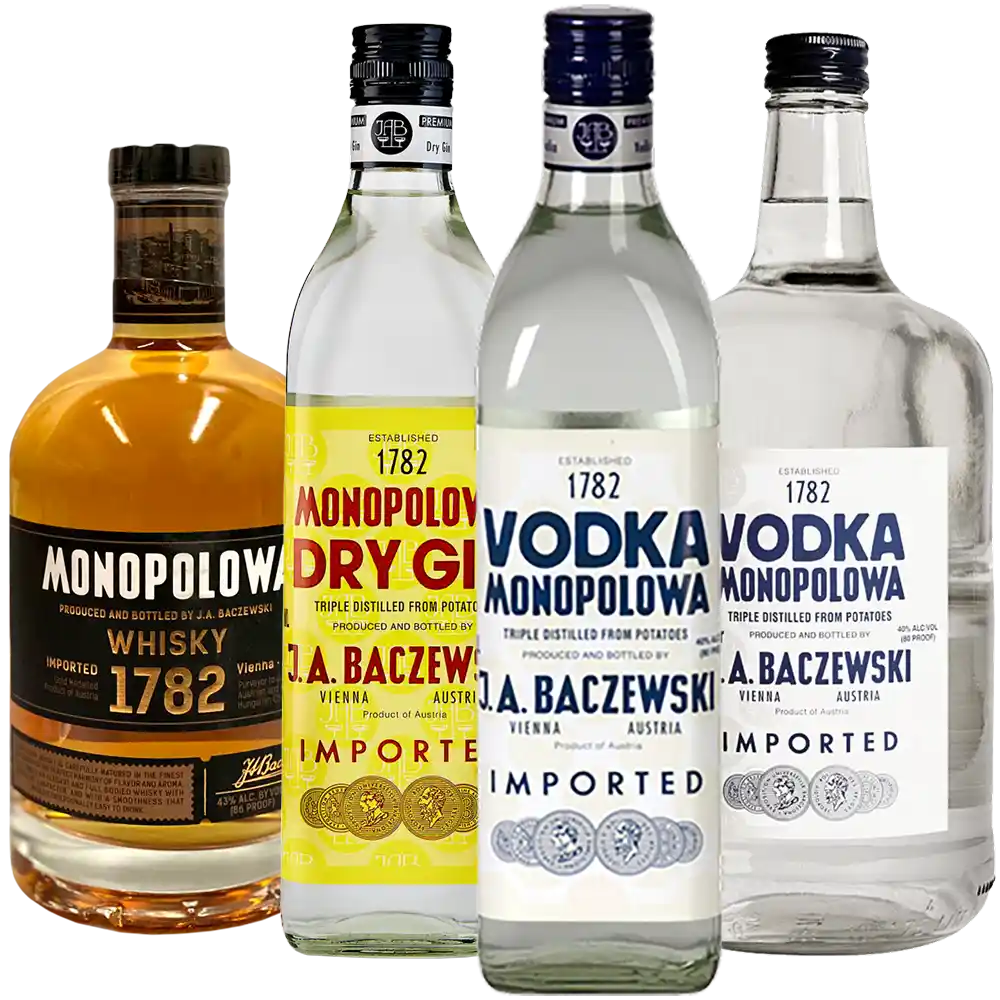 Monopolowa, originally a Polish brand, is a vodka made in Austria by Gessler. It is distilled from potatoes and is marketed under the brand name of J. A. Baczewski.
"Monopolowa" means "monopoly", in this case referring to a privilege given to the Polish nobility class of the Szlachta, giving them exclusive rights to produce and sell vodka in their territories.
Monopolowa was produced by J. A. Baczewski until World War II. After the war, Gessler, an Austrian company, bought the license and the rights to production. In 1990, the Starogard Gdański-based branch of Polmos, a privatized offshoot of the former state-owned monopoly, started to produce several of J.A. Baczewski's products under license from Altvater Gessler – J.A. Baczewski International (USA) Inc. However, in the late 1990s, the license was terminated and production in Poland was halted.
Monopolowa has consistently scored top marks in awards and is marketed to consumers looking for a high-quality product with a low price. It scored a 94 at the 2003 International Review of Spirits, the highest score, tying with Stolichnaya. In 2008, the independent Beverage Testing Institute gave Monopolowa a rating of 93/100, calling the vodka "exceptional".
Red Eye Louie's Vodquila is a blend of vodka and tequila, which is produced by Red Eye Louie's. The primary ingredients include vodka, 6 times distilled and made from multiple grains, and tequila made from the agave plant. It is bottled at 40% alcohol by volume. (80 Proof)
The three co-founders, Chander, Nina, and Romie Arora created the product in 2011. Headquartered in Alabama, with offices in New York as well, Red Eye Louie's Vodquila is available in 30 states in the United States as well as the UK, Spain, Portugal, Australia, Egypt, and Alberta, as of March 2017.
Vodquila was created in 2011 when co-founder Nina Arora had where she needed to come up with a new marketable product. She created the initial product at home and tested it first with her father and brother. The three decided they had a marketable product and further developed the recipe and packaging.
The name "Red Eye Louie's Vodquila" came about when the Alcohol and Tobacco Tax and Trade Bureau rejected their initial proposal of marketing the product under the simple name "Vodquila", claiming that the family had created an entirely new product category (vodquila) and therefore needed a more specific brand name for their product.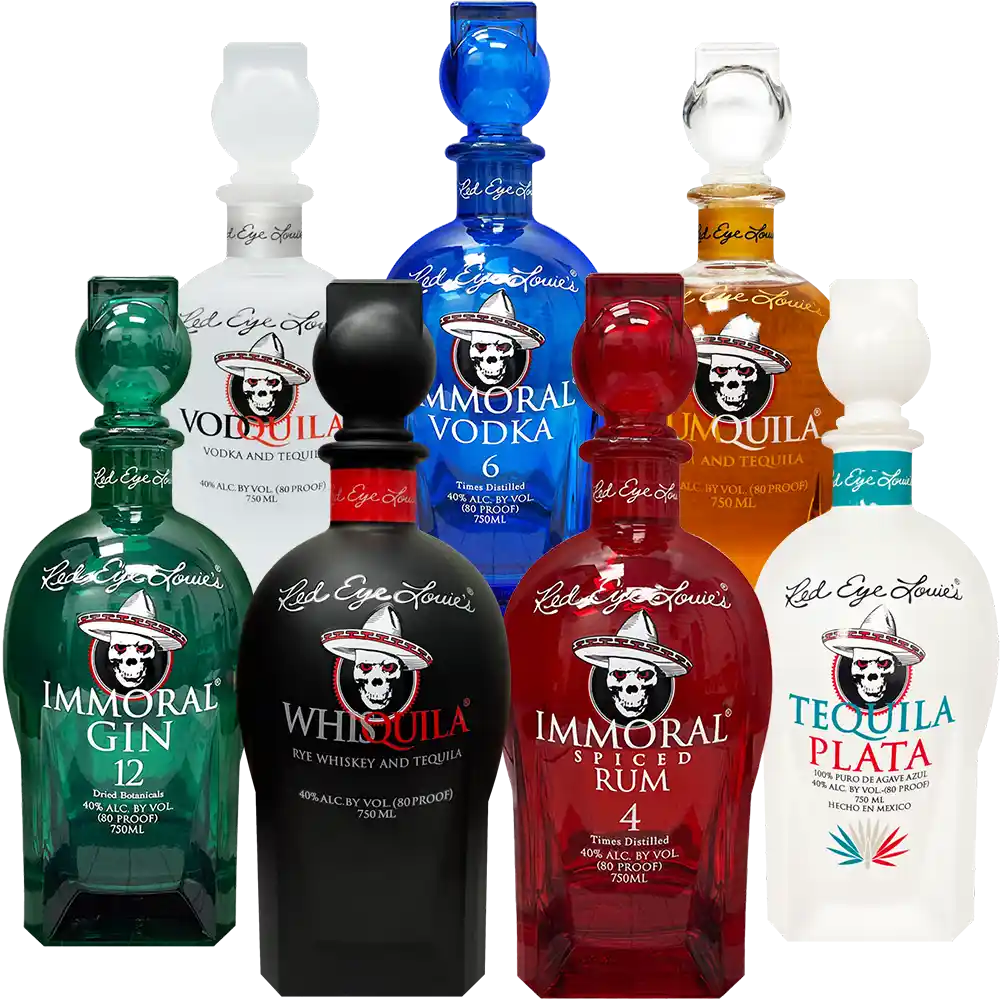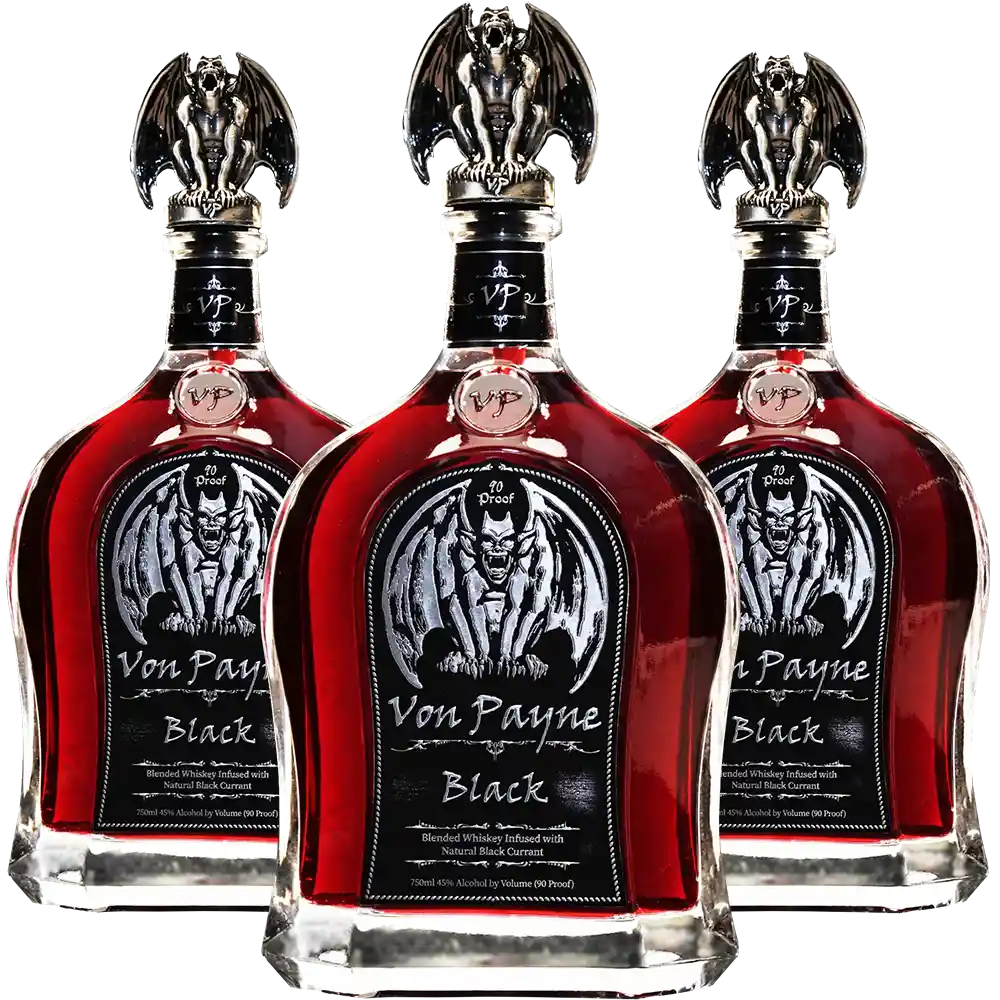 Von Payne Black is a 3-year American Blended Whiskey infused with Natural Black Currant crafted to have a unique taste that fills your senses with unexpected pleasure. Slightly tart and subtly sweet, it goes down smooth with the rich flavor of Black Currant and a warm wave of a 90-proof premium blended whiskey.
Von Payne Black Whiskey features a one-of-a-kind heavy metal gargoyle pour spout that is guaranteed to capture the attention of anyone around when you pour a glass of this deep ruby red blended whiskey! 
Place a bottle on your barback and see how it stands out from the rest! 
Premium Blended Whiskey infused with Natural Black Currant. 
Von Payne Black is produced by Von Payne Spirits, based out of Clearwater, FL, and founded by Steve Allen.
90 Proof / 45% ABV

Metal Gargoyle Pour Spout

Heavy Glass Decanter Bottle

750ml
Laird & Company is a distillery located in the Scobeyville section of Colts Neck Township, New Jersey. Founded by Robert Laird, it is the oldest licensed distillery in the United States and received License No. 1 from the U.S. Department of the Treasury in 1780.
Today, best described as an apple whiskey, Laird's Applejack is a pure spirit beverage made from a blend of apple brandy and neutral grain spirits. The aged apple brandy base gives Laird's Applejack a rich, deep flavor and smooth balance while retaining the delicate aroma and flavor of tree-ripened apples from which it is made. Robert Laird descended from one of Monmouth County's oldest families and served in the Continental Army under George Washington. Washington asked Laird for his recipe for "cyder spirits" before the Revolution. Today, none of the company's production is located in New Jersey. It obtains all its apples from central Virginia and distills its products in North Garden, Virginia. Distilling at its New Jersey facilities ceased in 1972 and Laird's only blends, ages, and bottles its products in Scobeyville.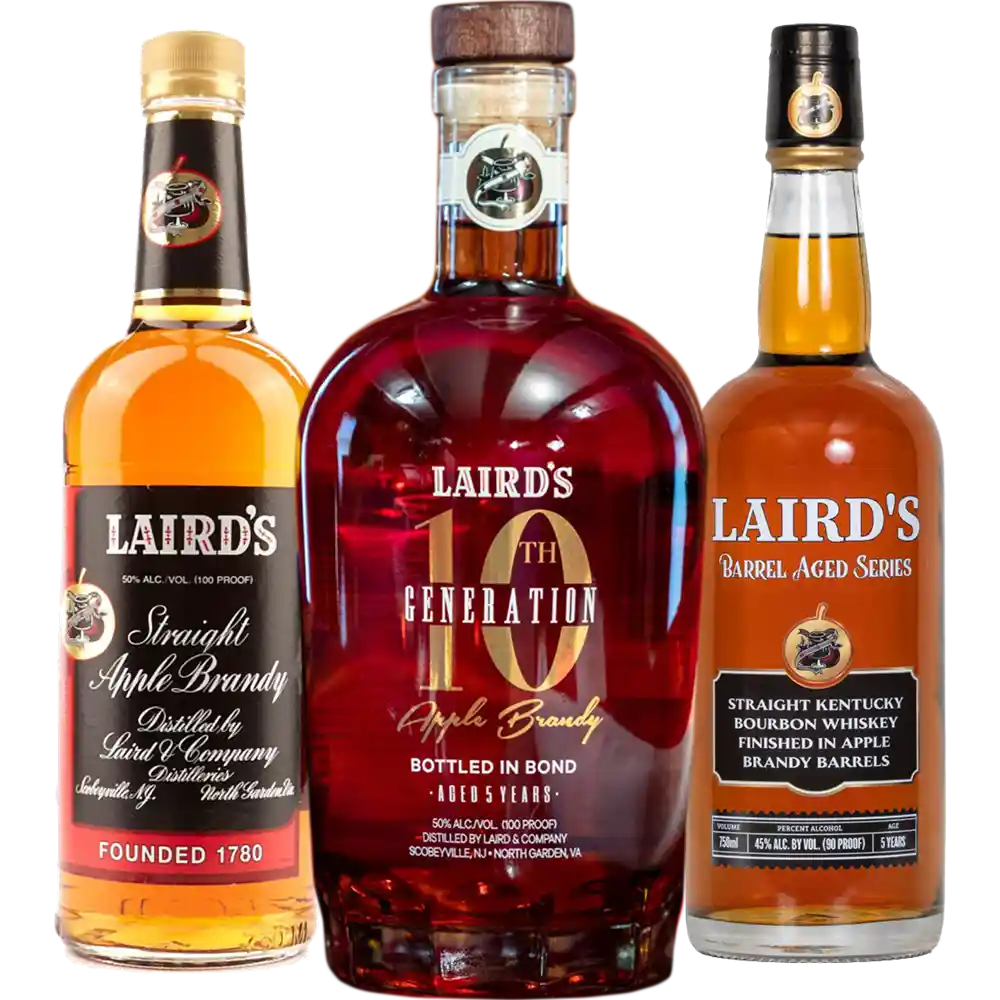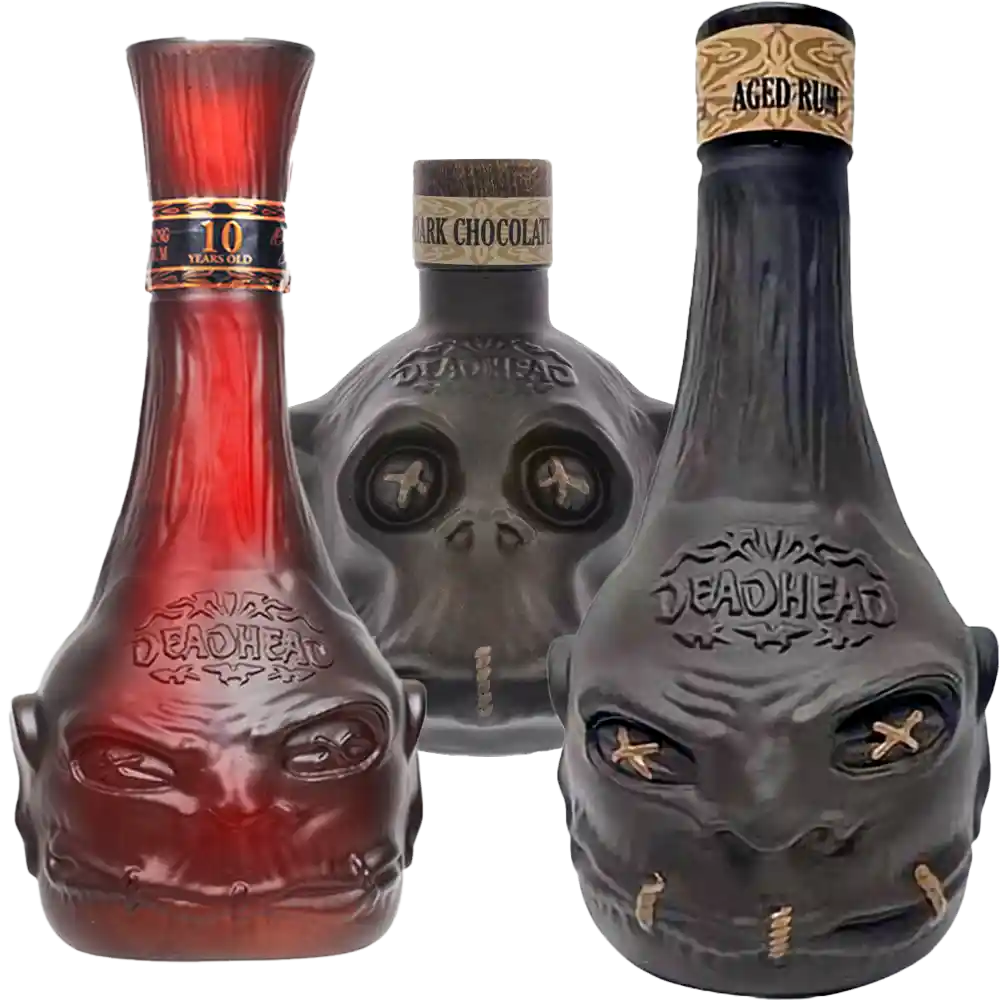 The shrunken head of an enemy was kept as a trophy; taken for blood honor and spiritual renewal.
The image of Deadhead's bottles is likely indelible to all who've seen them. They pay tribute to the Shuar, who were known to collect the shrunken heads (tsantsas) of their vanquished foes, believing that the soul remained within. While Deadhead's vessels don't contain souls, they do contain award-winning spirits: The Cask Aged Rum is aged for six years in toasted American and Chiapas oak barrels, and the recipe for its slow-roasted, cacao-infused Dark Chocolate Rum was inspired by ancient recipes used by Mayan emperors.
Nestled in Southeastern Mexico, in the rugged region of Chiapas, Tapachula is a sustainable rural community where the Suchiate River connects with the Pacific Ocean. Surrounded by banana plantations and extraordinary tropical rainforests, Rums from Mexico is located in the second sugar mill in Chiapas, Mexico. The family-owned and operated distillery has been producing exceptional rums and aguardiente for three generations since 1948. With dozens of international awards, not only is it the most-awarded rum distillery in Mexico, but it also produces the only Mexican rum that has earned an international award in the history of the American Rum Industry.
A destination for foodies, who want to enjoy all three pillars of good travel: good food, spirits, and adventure, guests can participate in hands-on learning about the process of making rum and aguardiente, from the fermentation of the sugarcane and the distillation to the aging in barrels and bottling, while touring the distillery in the remote lush jungle.
Rums from Mexico Distillery supports sustainable agriculture and endeavors to advance the economic and social conditions of the communities in which they operate. They are committed to preserving and respecting the earth and the environment. For example, to minimize its carbon footprint, it has eschewed the use of plastic in favor of glass for its Deadhead rum brand; and when distilling all its spirits, Rums from Mexico participates in fair trade and is green industry certified. What's more, the brands donate to local schools, health clinics, and local artisans.
Sangre de Vida captures the essence of truly traditional tequila and mezcal. Inspired by the artwork of the quintessential Mexican game Lotería, Sangre de Vida is crafted to bring people together. Each bottle pays homage to the rich history of Mexico's culture and the legacy of crafting excellent tequila.
Casa Caibarí, since 1948, is a producer of exceptional rums and spirits thanks to its fortunate location in Tapachula, Chiapas, Mexico, in the geographical strip 15 degrees north known as the rum strip for being ideal for the cultivation of sugar cane full of sweets and for ende for single distillates.
The Izapa Rum produced here has dressed Mexico in a garb of lights for being recognized among the most outstanding rums in the world. He is a double Silver Medal winner at the 2012 and 2013 International Rum Conference, held in Europe, and champion of the 2013 Rum Renaissance Festival, held in Miami where he won four Gold Medals, 2 of them as the best in their category.
A fundamental component in its formula is its aging in French and American oak barrels very close to the Mayan Archaeological Site called Izapa, from which it acquired its name, enjoying the influence of the energy and mysticism that radiates from this magical place chosen as a Mecca by an of the most dazzling cultures not only of the continent but of humanity: the Mayans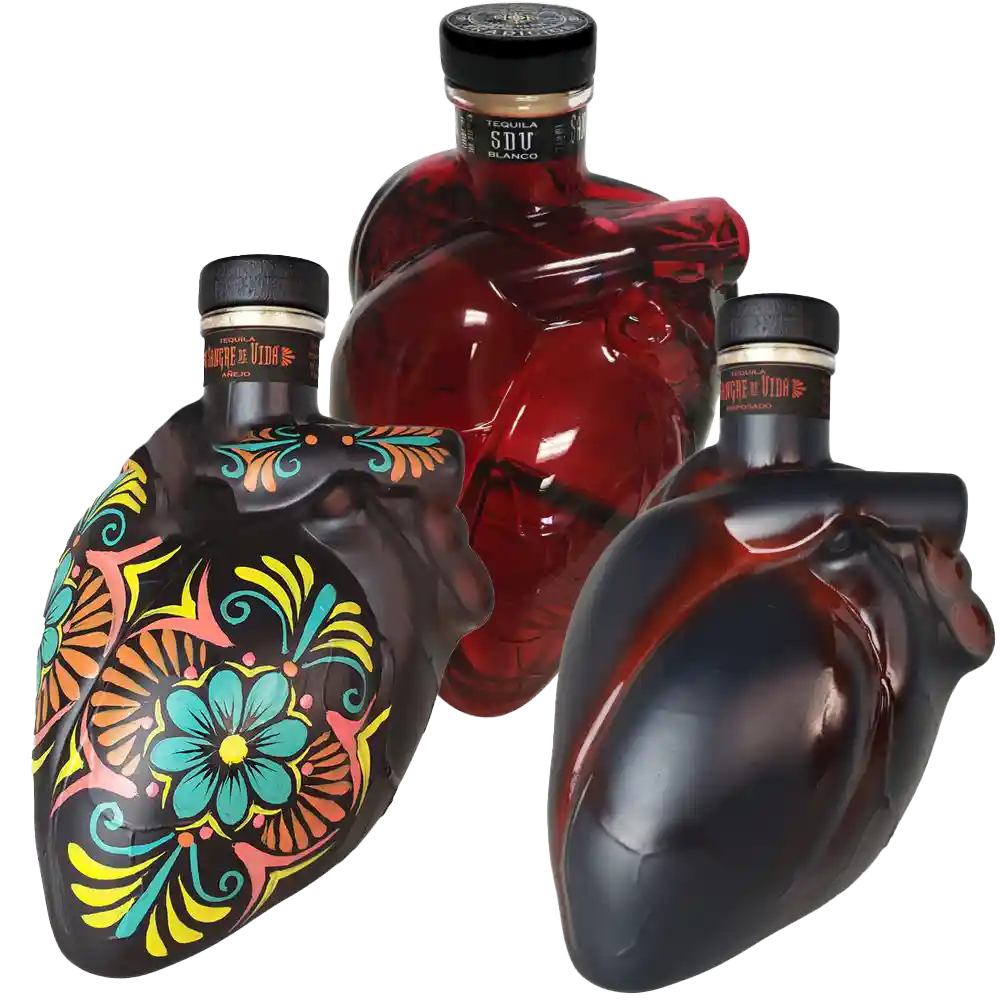 Rompope is a traditional Mexican Cream made with cream, vanilla beans, eggs, and rum a similar drink a eggnog very popular in Mexico during Christmas celebrations or Posadas.
Rompope Coronado is a handcrafted expression of vanilla, egg yolks, cinnamon, almonds, and milk with the perfect amount of rum to make the original Rompope Coronado unique and loved by so many.
Paolo Lazzaroni & Figli SpA is an Italian food company, founded in Monza in 1869, by Paolo Lazzaroni and his sons Pietro and Luigi.
Paolo Lazzaroni & Figli is one of the two food companies that derive from the Lazzaroni family: it was founded in Monza in 1869, by Paolo Lazzaroni and his sons Pietro and Luigi. Paolo was the second son of Carlo Lazzaroni (1774-1835), who had started a confectionery production business in Saronno, which was then carried on by his other son Davide (whose sons later founded D. Lazzaroni & C. ). Paolo had moved to Monza in 1852 (or according to others in 1855 ), initially creating a grocery store and then founding the company, which bought and sold spices, coffee, cured meats, chocolate, sweets, candied fruit, and liqueurs. According to tradition, the recipe for the amaretto liqueur which is sold under the brand "Amaretto Lazzaroni 1851" belongs to this era.
In 1927 the two companies of the Lazzaroni family merged into a single structure, maintaining the two biscuits and liqueurs branches. In 1984 the biscuit branch (precisely D. Lazzaroni & C. ) was sold to the American multinational Campbell's, while Paolo Lazzaroni & Figli remained in the hands of Paolo Lazzaroni of the same name, who subsequently decided to also undertake confectionery production, creating the "Chiostro di Saronno" brand.
Starting from 2004, Paolo Lazzaroni & Figli was the subject of a long legal battle started by D. Lazzaroni & C., as soon as it began producing amaretti biscuits in Saronno (for which D. Lazzaroni & C. holds the registered trademark " Amaretti di Saronno "). At a certain point, in 2009, the affair also saw the temporary seizure of Paolo Lazzaroni & Figli's products, but it finally ended in 2013 with acquittal.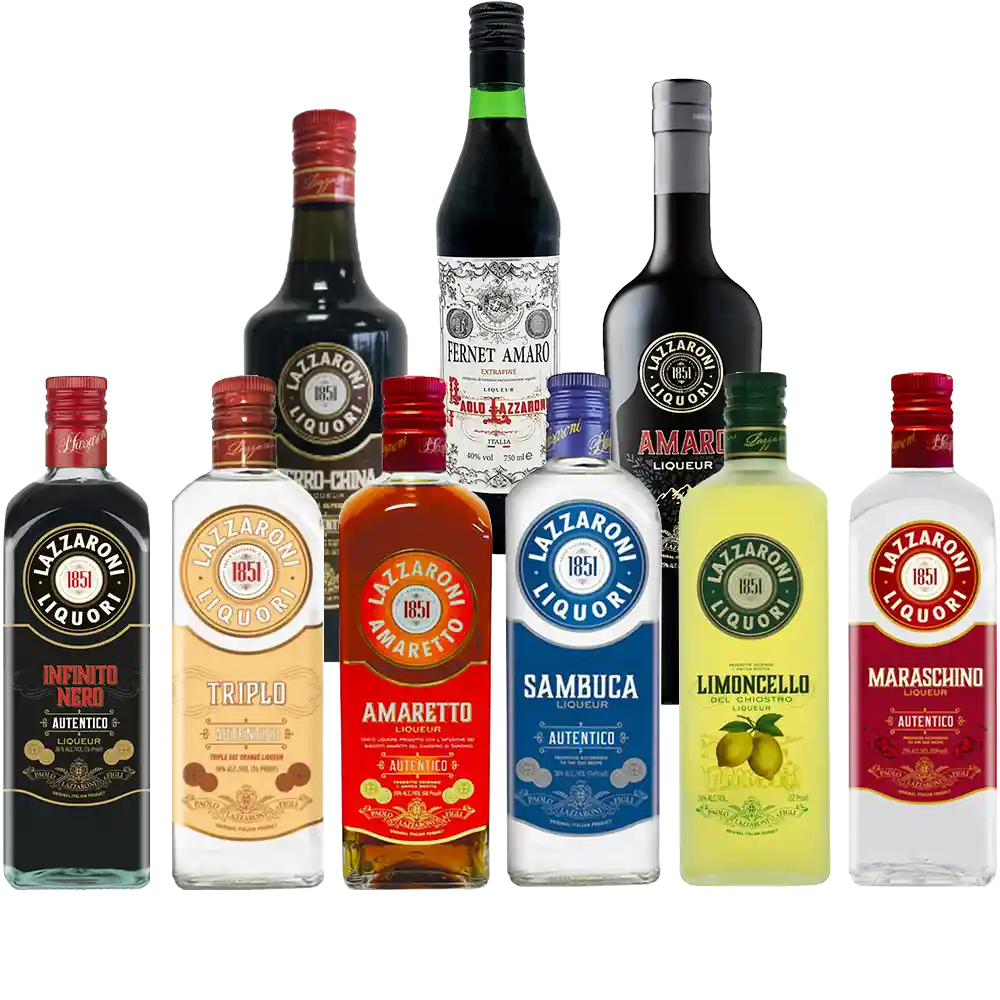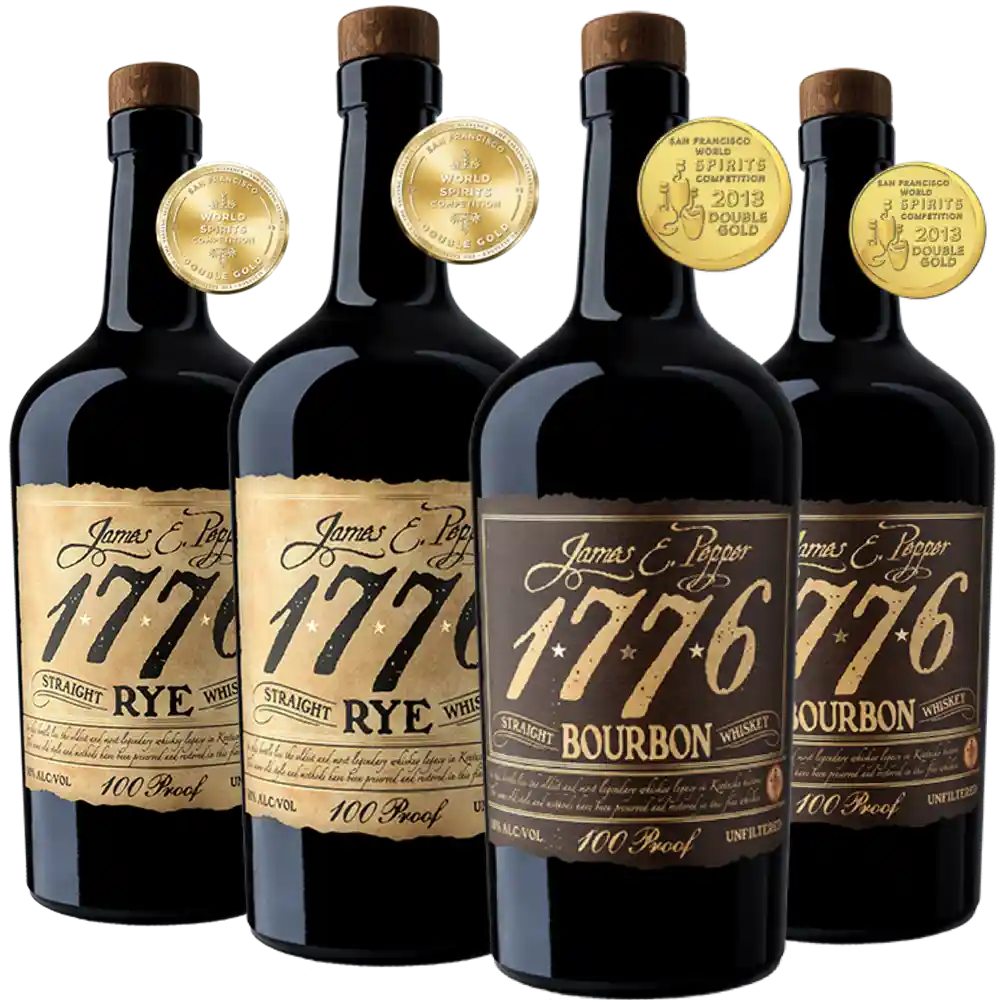 James E. Pepper is an American whiskey brand. 
The Pepper family brand of whiskey is an iconic Kentucky whiskey brand initially produced during the American Revolution and continued through 1958. The family built and operated two main distilleries: first founding the site that today hosts the Woodford Reserve Distillery, and later the James E. Pepper Distillery in Lexington. In the late 1950s the bourbon industry hit hard times, and both the brand and distillery in Lexington were abandoned for over half a century.
In 2008 the brand was relaunched by whiskey entrepreneur Amir Peay. A decade-long campaign of thorough historical research and collection of historic materials was used to retell the lost story of this iconic American whiskey brand and to distill new stocks of "Pepper" whiskey (visit the History Page to learn more). To initiate the relaunch of the brand, partnerships with existing distilleries were formed. Today the whiskey sold under the 1776 line of whiskeys was distilled years ago in collaboration with the historic Lawrenceburg Distillery in Indiana.
After a multi-year construction effort, the historic James E. Pepper Distillery—which after fifty years of neglect had fallen into a terrible state of disrepair—has been completely rebuilt and restored. In December 2017, the distillery once again began distilling whiskey